Softwave Tissue Regeneration Technology
New to Stucky!
Introducing the Softwave Tissue Regeneration Technology, The "Stem Cell Machine!" this is the first and only FDA approved device in the Chippewa Valley for tissue regeneration!
SoftWave OrthoGold100® is a product of SWTRT using patented technology to reach an affected area at the cellular level to successfully turn on the body's natural healing process in a way that increases blood supply, modulates inflammation, and stimulates and activates resident stem cells to repair and regenerate the tissue.
SWTRT technology is used worldwide in the healthcare fields of orthopedics, traumatology, wound care, aesthetics and urology.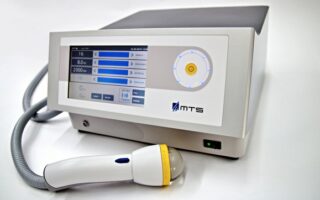 Benefits Include :
Increases blood flow

Modulates inflammation

Regenerates tissue

Reduces acute and chronic pain
Trusted By
SWTRT technology is being utilized by leading research and medical centers as well as professional sport organizations such as:
Cleveland Clinic

University of Pittsburgh Medical Center

University of California San Francisco

Baylor Medical Center

Northwestern University Hospital

Shepherd Center

Pittsburgh Steelers

Los Angeles Lakers

New York Knicks

Brooklyn Nets

Cleveland Indians

Chicago Cubs
"The Doctors"
Check out this video from the TV show "The Doctors" as they discuss this Softwave Tissue Regeneration Technology!