Based on 277 reviews

More Reviews
I had been dealing with sciatic pains for about 6 months and it was getting worsening by the week. A friend recommended I go see a chiropractor. I searched online and chose a chiropractor based on how close they were to my house. After going to this chiropractor for 12 weeks, I was no better, in fact it was getting worse. A friend at church noticed my pain and suggested I try Stucky. She highly recommended Dr. Chris. I was skeptical, thinking that all chiropractors were the same. Wow, was I ever wrong! Within the first 3 visits, I was feeling so much better. After the first month, I was able to go grocery shopping without having to stop for a break because the pain was so intense. After the first 3 months, the were times that I would get up and feel very little pain at all. It's now been 7 months. I still go, but only once every 2 weeks. The change to my lifestyle has been so dramatic. I still have pain, but it's usually just a background pain instead of being an almost crippling pain. I can enjoy walks, shopping with my wife, and helping around the house. Thank you Stucky Chiropractic Center and Dr. Chris for giving me my life back!
-Scott V.
I absolutely love this place! I was always skeptical of Chiropractors, but I had been sick for almost an entire year and the Doctors at hospitals just told me I was overweight and nothing was wrong with me. I decided the chiropractor was my last hope, so I went. I had X-rays done and everything was explained to me before anything was done so I knew exactly what was going to happen. X-rays showed I had zero curve in my neck and lower back. This attributed to almost all of my problems. I started going multiple times a week and now am down to twice a month and almost have my life back on track! Dr. Kyle and everyone else literally turned my life around. They are all super kind and professional.
-Danica
Dr. Hall is so amazing! We are more than grateful that he is so knowledgeable in his profession to treat my daughter Natalia! Finally for once, we have hope for her feeling way better and continuing to have a healthy and pain free life. We had beat our heads against the wall in the past about her digestive issues. This makes so much sense. I only wish I would have brought her in years ago. Thanks to infinity.
-Maureen A.
This I do gladly. I have been a patient at Stucky for almost two years. I have found the staff to always be friendly, helpful, informative, and easy to talk to. My appointments are always on time. I am a patient of Dr. Hall, who has helped me recover from an injury to my hip following a car accident. I have recommended Dr. Hall and Stucky Chiropractic to family and friends many times and I will continue to do so without reservation.
-Dr. Daniel N.
Patient Stories
For those patients with a hurt back who have been in pain so long but haven't visited a chiropractor for whatever reason, this patient's story may resonate with you.
---
When you are treated by a great chiropractor it is a real gift. Dr. Hall's patience with explaining how the body works and how parts that don't seem to be connected and affected by each other are most definitely connected, is what was key to helping me understand and help my own healing.
---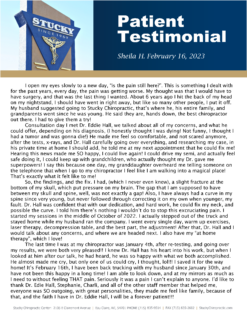 An inspiring story from a patient of Dr. Hall. This patient saw so much improvement her grandchildren thought that her doctor had given her superpowers!
Read Now