The month of July holds significance for this great nation. As we consider the impact of our founding fathers and the contribution they made to all that Americans have, here at Stucky Chiropractic, we are also remembering our founding father, in this the anniversary month of his passing. Dr. L. Joe Stucky lived a life of significance that was far-reaching, and the legacy of his life is still having a positive influence on his family, his patients, chiropractors around the world, and even the present Stucky staff.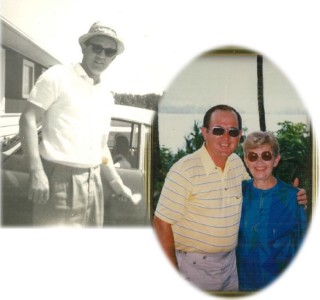 Dr. Stucky was born on August 6, 1936 in Rochester, Minnesota. He was involved in multiple sports in high school as well as valedictorian of his graduating class. He received his Doctor of Chiropractic degree from Northwestern College of Chiropractic in 1957. He moved to Eau Claire and began his practice in downtown Eau Claire in 1959. Early in his career he was involved in Toastmasters in Eau Claire and was Toastmaster of the year.
His real love was Chiropractic. He was known throughout the world as a speaker on Chiropractic philosophy and teacher of the Chiropractic technique known as the Stucky Integrated Method. He was a Distinguished Fellow of the International Chiropractic Association. Dr. Stucky and his wife, Kay, were two of the original founders of Life Chiropractic College in 1974 (now called Life University, in Marietta, GA.) He was a mentor and an inspiration to thousands of Chiropractors over the years. His enthusiasm for Chiropractic, and his commitment to his patients, inspired hundreds to become Chiropractors. He was very proud that all of his children became Chiropractors and their spouses are Chiropractors, as well as two granddaughters. He has 19, soon to be 20, total Chiropractors in his family. He retired from practice after 52 years of service on June 15, 2009. Dr. Stucky touched so many lives and considered all his patients as friends. When you would ask how he was doing he would always answer, "near perfect".
Remembering His Actions & Words
"My Dad was the kind of person that lit up the room when he walked in. His energy was second to none. Not only all that, but he was the best Green Eggs and Ham reader. I was a lucky Daddy's girl for all 47 years I had him."
Dr. Pam Stucky-LaGuardia
"My favorite memory about Dr. Stucky was his jolly, contagious laugh. He always had a joke to share."
Doris (Dr. Stucky's First Employee)
"One of my favorite memories of Dr. Stucky was how he would burst into my adjusting rooms just as I was about to adjust a patient. With excitement in his voice, he would say "come here, I have to show you what I found on this patient", or "let me show you this new way to adjust this or that." He was always teaching and trying to find a better way to help his patients get well."
Dr. Brian Becker
"I loved that he was always willing to see anyone at anytime. His giving spirit was quite remarkable."
Patsy (worked for Dr. Stucky 33 years)
"Every day when Dr. Stucky got here he would open a squeaky drawer, throw his keys in the drawer and then come on into the insurance office. He would greet everyone, using their name. His personality and energy filled the room; and his kindness and gentleness put everyone at ease."
Kelly (current Office Manager)
"Dr. Stucky always brought energy, enthusiasm and passion to his patients and practice daily. I never saw him have a bad day in 22 years. He taught us how to love and serve unconditionally. I miss him everyday."
Dr. Jay LaGuardia (Son-in-Law)
"When moving here, I was referred to Stucky Chiropractic by my chiropractor in Waukesha, WI who was mentored by Dr. Joe Stucky. Two visits later, I was hired as the Marketing Director; Evidence that Dr. Joe Stucky's influence is still at work today!"
Susan Joy (Stucky Marketing)
Dr. Stucky is missed in daily life, but is remembered in the hearts of all those whom he touched while he was here, and is still touching now.