WHAT EXCUSES DO WE USE TO NOT MOVE WELL?
Time
Access to equipment
Physical inabilities
Joint pain, injuries, pain, etc.
Lack of Energy
Lazy
Do not feel equipped to move well
WHAT WOULD HAPPEN IF WE STOPPED USING EXCUSES AND EXERCISED INSTEAD?
Reach / Maintain Ideal weight
Build lean muscle
Movement reduces stress hormones
Moving increases HGH (Human Growth Hormone) Naturally
Movement can prevent disease
Movement stimulates your brain to grow
Increase your spinal health and disk health
---
Keep reading…. You will learn:
Empowerment for stopping the excuses and starting the movement
Exercise is fun
Exercise is feasible with any schedule (12 minutes a day!)
How to exercise without causing injuries
How to improve your quality of life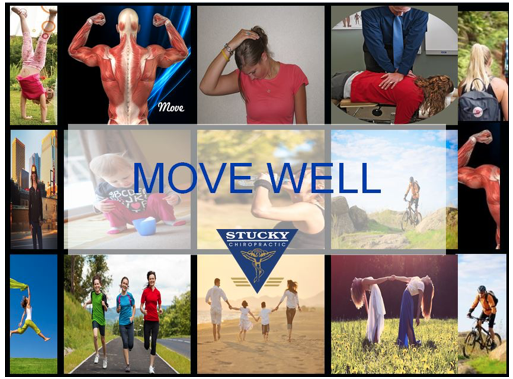 Education is key to moving toward a healthier YOU. To help with your education, Stucky Chiropractic Center offers a workshop series, that includes MOVE WELL. Go to our events page to see when the next workshop is scheduled. And don't feel guilty about the choices you've made thus far. Make changes and move forward! Here's how…
---
GETTING STARTED
FOCUS ON:
RESEARCH
One study, published (2013) in the British Journal of Sports Medicine, concluded that adults who spend an average of six hours a day in front of the TV will reduce their life expectancy by just under 5 years, compared to someone who does not watch TV.
One study published in the Journal of Obesity reported: 12 weeks of HIIT can result in significant reductions in abdominal, trunk, and visceral fat can give you significant increases in fat-free mass and aerobic power.
Research published in the journal Cell Metabolism showed: When healthy but inactive people exercise intensely, even if the exercise is brief, it produces an immediate measurable change in their DNA. When you exercise your body almost immediately experiences genetic activation that increases the production of fat-busting (lipolytic) enzymes.
A 2009 study in the British Journal of Sports Medicine showed: lactic acid accumulation helps to trigger HGH. Lactic acid is only produced in response to intense anaerobic training. Aerobic training is not intense enough to produce the kind of lactate triggering of HGH.