Our genes are programmed for health. Modern illness is due to environmental factors, not genetic ones. Dating back, our ancestors and surviving tribes did not die from the diseases of lifestyle that occur today. Did you know that 94% of all chronic disease is lifestyle related? Imagine all of the diseases out there that could be easily prevented with proper lifestyle and weight loss.
By educating yourself and understanding which types of foods are unhealthy for consumption, you'll be eating healthier in no time.
WHAT EXCUSES DO WE USE TO NOT EATING WELL?
Time
Can't afford to buy healthy food
Too much preparation time
Inability to give up habit of consuming unhealthy products
Lazy
Uninspired
WHAT WOULD HAPPEN IF WE STOPPED USING EXCUSES AND ATE WELL INSTEAD?
Reach / Maintain Ideal weight
Improve brain function
Increase energy level
Reduce your risk of cancer


WHAT ABOUT SUGAR ADDICTION?
Too much sugar is damaging to your health
Replace sugar with foods rich in fiber (slows down the absorption of sugar)
Foods rich in high quality omega-3 fats are also beneficial
Learn More
---
History of the Food Pyramid
The USDA Food Pyramid's roots date back to the late 1800s within the practice of agricultural chemistry. Wilbur Olin Atwater, Ph.D., a rural scientific expert who established and coordinated the Office of Experiment Stations (OES) for the USDA, composed the first dietary guideline. At that point in 1917, the first food guide was released. It was titled How to Select Foods and was composed by Caroline Hunt, a nutritionist for the USDA. It disregarded Dr. Atwater's recommendation to cut out fat and sugar intake, and rather emphasized newfound vitamins and minerals. In 1943, the USDA made the National Wartime Nutrition Guide, and afterward reconsidered it in 1946 as the National Nutrition Guide. Amid the 1980s, a few different rules and reports were issued by different organizations. The USDA leaned vigorously on these reports in the correction of its USDA Food Pyramid guidelines in the early 1990s.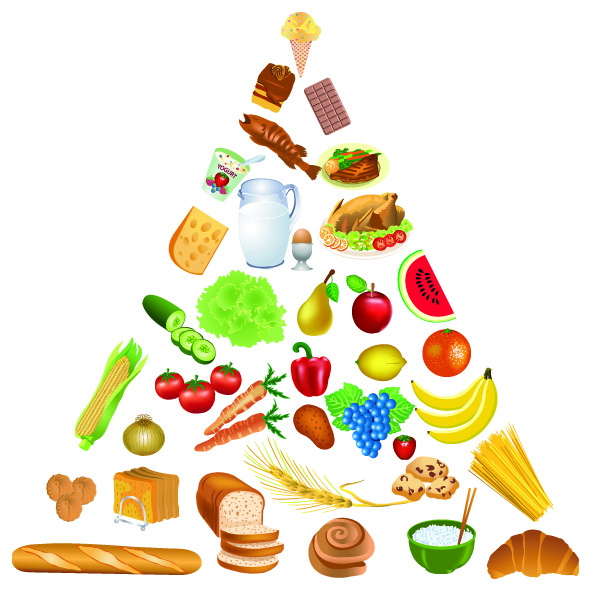 Interestingly, the actual graphic for the USDA food pyramid orginated from Sweden. To read more:
Source: History of the Food Pyramid.
Believe it or not, but this is NOT what the food pyramid should look like anymore! As consumers, we need to "flip" the food pyramid.
---
RESEARCH
75% Americans are OVERWEIGHT
38% Americans are OBESE
$190 BILLION: # of added medical costs/year from obesity related problems
$245 BILLION: total cost of diagnosed diabetes in US from 2012
600,000 die of heart disease/year
$108.9 BILLION: CAD costs the US just in this alone
Almost 300,000 die of Cancer/year
300,000 die/year of medical mistakes
800,000 died in past 5 years of beta-blocker medication